Edit: This got picked up by the New York Post - hi to everybody who clicked through from there.
An idea oft floated around the internet is: "if you avoid buying your daily latte and instead put the money in a savings account, you could be a millionaire by the time you retire." I think it was the book "The Automatic Millionaire" by David Bach that first popularised the idea.
I'm not going to argue that it's not worth saving money on non-essentials (although if you're in dire financial straits you probably don't need to be told this - contrary to some oddly popular rhetoric, people with low incomes do tend to also spend less money, especially if they are unemployed).
What bothers me is that, at realistic interest rates, you're very unlikely to make it to a million pounds. You'd save a lot of money, but you'd be far short.
Other people have also written about this, but I thought I'd quickly break down the maths.
Say you spend
pounds on a latte every day (in reality, probably around £3). Instead of buying this latte, you decide to invest the money in a savings account with an interest rate of
(probably between 3-6%). After
years, you will have £
.
So how do we work this out?
At the end of the first year, you put in £
.
In the second year, you'll get the first amount with interest, plus all the money you've added in the second year.
(Sidenote: I'm using a multiple for the interest, e.g. 3% interest is expressed as 1.03)
The next year, you get all of that money with interest, plus your new deposits.
This could also be expressed as:
This is looking like a geometric series, yay! If we come up with a generic expression for the total amount, it looks like this:
Now, if you can remember your GCSE maths, the way we find out the sum of a geometric series is by multiplying it by
:
and then taking it away so you can cancel out most of the terms:
Now let's get all the
s on one side of the equation, and everything else on the other side:
So if you invest your £3 per day latte money into an account paying 6% interest for 50 years, you'll end up with:
Don't get me wrong, £318,135.57 is not chump change, but it's less than a third of the way to a million.
In fact, if you wanted a million pounds from a £3 latte habit, you'd need an interest rate of 9.6%. At an interest rate of 6%, your latte would have to cost £9.43.
Here are all the likely interest rates and latte cost combinations that will net you a million pounds by this method:
Minimum interest and cost combination required to accumulate a million pounds

As you can see, you'd require a very high interest rate or a very expensive latte.
Again, I'm not against saving money and making your coffee at home; I'm against the propagation of inaccurate mathematics.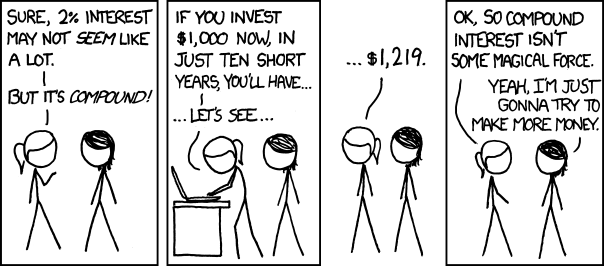 Addenda:
I was thinking about inflation, but decided that there were too many factors to consider (your money would be worth less at the end, but also your latte would cost more and perhaps your interest rate would rise...)
Several people have mentioned that it's likely that people would only buy their latte on the way to work for 5 days a week. They'd also have some holiday days during the year. Considering how much shift work, zero-hours contracts, overtime, and working multiple jobs that people do, calculating these factors made my head hurt, so I choose instead to believe that these people go out on the weekends for a latte at the nice artisan café down the road.
It has also been pointed out that finding a bank account with a 6% rate of interest is nigh-on impossible. If I've interpreted the maths correctly, this means that you won't become a millionaire unless you start buying a more expensive latte.
If you'd like to get email updates from me, sign up to my mailing list!